Plan your perfect Washington, DC summer adventure with a few off-the-beaten-path ideas.
Lasting a few hours to an entire day, these ideas will help you explore new neighborhoods and unknown festivals. Choose from these specialty one-day itineraries and begin your DC adventure.
• • •
There is nothing like experiencing the celebration of independence in Washington, DC. Start your day with a reenactment reading of the Declaration of Independence at the National Archives. Stick around for the parade along Constitution Avenue, or head over to Nationals Ballpark for an early viewing of America's pastime – baseball. Pop into the Smithsonian Institution National Museum of American History and learn the history of the Star-Spangled Banner. Wander along the National Mall and experience the country's global influences during the free Smithsonian Folklife Festival. End your day taking in the star-studded sounds of A Capital Fourth concert in front of the U.S. Capitol while a grand firework display lights up the sky.
• • •
Interspersed amongst the monuments and memorials lie a treasure trove of beauty and tranquility. Take a morning stroll through the twenty-five acres of serene landscaped gardens and natural woodlands at Hillwood Estate, Museum and Gardens, while also taking a gander at the most comprehensive collection of Russian imperial art outside of Russia. And delight in Tudor Place, one of America's last intact urban estates from the Federal Period, while enjoying a picnic lunch on the lawn. End your journey by recollecting the founding of the nation at Anderson House, a representation of what America's founders hoped their capital city would become.
• • •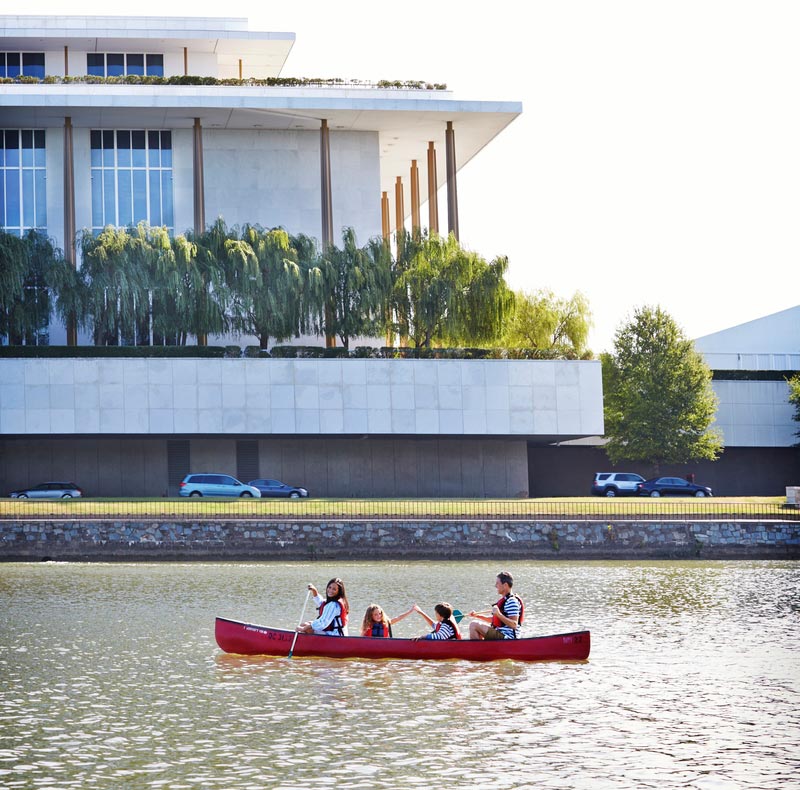 Family canoeing on Potomac River past Kennedy Center, Washington DC
Get moving and discover why Washington, DC is known as the Fittest City in the United States. Enjoy lunch in Georgetown before starting your water adventure. From here, you jump on the water! Start with a brief kayaking and safety instruction followed by a self-guided tour around Teddy Roosevelt Island, paddling past iconic DC locations like the Watergate Building, the Lincoln Memorial and the Kennedy Center. See the city from a different perspective. No previous kayaking experience required.
• • •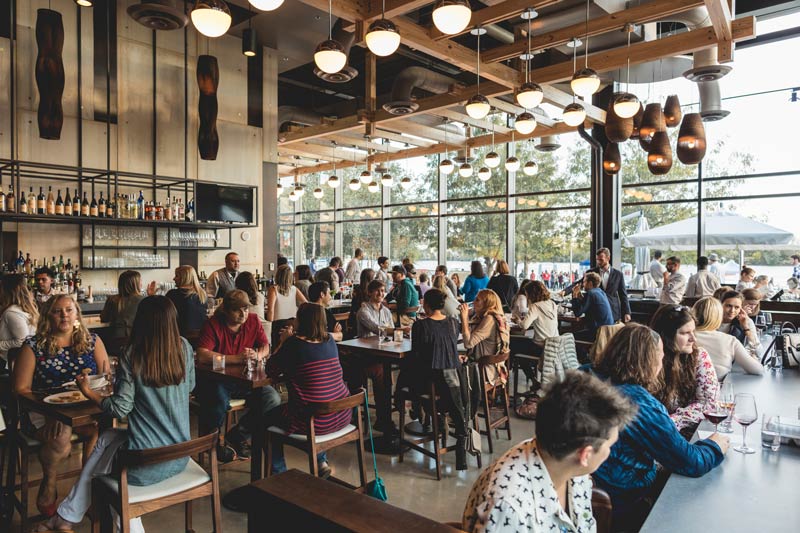 Ana Restaurant at District Winery
Let your appetite be your guide! Begin your culinary musings by paying a visit to District Donuts – their gourmet offerings truly showcase why breakfast is the most important meal of the day. Feed your belly and brain in one of Washington, DC's unique neighborhoods on a walking food tour. Pick up a Michelin Guide and treat yourself to an exquisite dinner. Close your day with a nightcap of your choosing – DC offers homegrown beer, wine, gin, rum, bourbon and more. You can hire a guide to take you on a tour of multiple breweries with DC Brew Tours, grab a table on the water at District Winery, or order a sampler of local spirits at Farmers and Distillers. Cheers!