Our end-of-the-week picks for Dec. 10-12
We've gathered up some live virtual events and other fun things to do that are going on this weekend. You can also read the latest info regarding what's open and reopening in the District, as well as things to do during the week and throughout the month.

Looking for a local perspective delivered directly to your inbox every two weeks? Sign up for our "DC on the Go-Go" Local Newsletter to stay in the know.
Friday
Ice Maze at CityCenterDC
CityCenterDC continues the holiday celebrations with the return of its famous Ice Maze for this weekend only. This year's maze will be created with 150,000 pounds of ice, topping the maze's record-breaking debut in 2019 by 40,000 pounds and making it the largest clear ice maze in the United States. The immersive maze will be lit with multicolored lights, adding a dazzling rainbow of colors to the frosty maze. While this event is free and open to the public, CityCenterDC is encouraging visitors of the Ice Maze to make a donation to Children's National Hospital Foundation and help spread the gift of giving in the community.
Friday: 4-9 p.m. |  Saturday & Sunday: 10 a.m. to 9 p.m. |  Free admission
The Park at CityCenterDC, 1098 New York Avenue NW, Washington, DC 20005
 
Check out the National Christmas Tree
The National Christmas Tree is DC's claim to fame during the holidays, and for good reason. The gorgeous conifer lives in President's Park on the White House Ellipse, where it's surrounded by trees decorated with handmade ornaments from 56 U.S. states and territories and is accompanied by nightly musical performances throughout the holiday season. The display is free to visit and open from 10 a.m. – 10 p.m. while the National Christmas Tree is lit each day from 4:30-10 p.m.
10 a.m. – 10 p.m. |  Free admission
15th & E Streets NW, Washington, DC 20500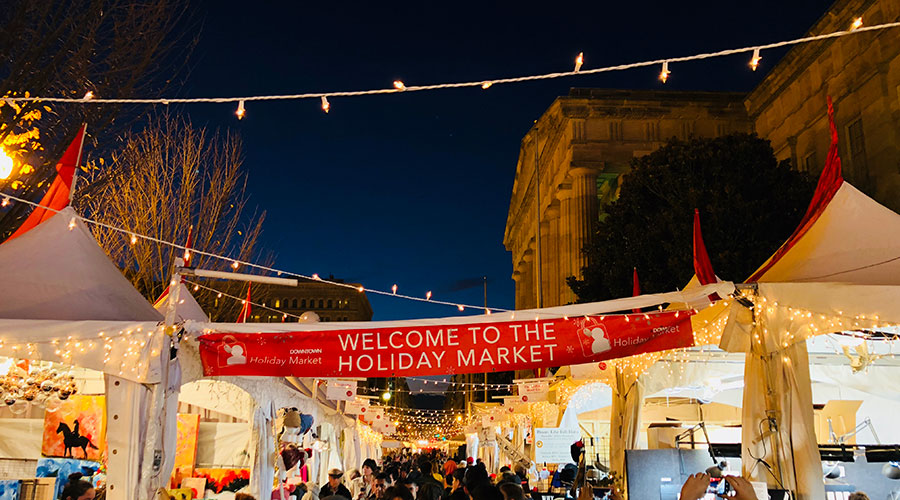 Downtown Holiday Market
Downtown Holiday Market
This free-to-frequent downtown bazaar is centrally located in front of the Smithsonian American Art Museum and National Portrait Gallery. The beloved market stretches across two blocks of F Street between 7th and 9th streets. Scope out eclectic wares from dozens of pop-up tents with seasonally flavored music performed live in the background. Locally roasted coffee and crafted-before-your-eyes mini-doughnuts inspire a cold-weather appetite, creating a holiday atmosphere you won't find anywhere else in DC. Please make sure to read the market's safety information before your visit. The market runs through Dec. 23.
12-8 p.m., daily |  Free admission | Safety guidelines
F Street between 7th and 9th Streets NW, Washington, DC
Washington Capitals vs. Pittsburgh Penguins
Alex Ovechkin and the Caps have started the 2021-22 NHL season hot, sitting near the top of the league standings and looking like a formidable squad. The hometown favorites will take on their archrival, the Pittsburgh Penguins, in a crucial early December clash. The Penguins are led by center Sidney Crosby, making for an enticing matchup of two perennial contenders on Friday night.
7 p.m. |  Tickets
Capital One Arena, 601 F Street NW, Washington, DC 20004
Tootsie
Based on the classic 1982 film starring Dustin Hoffman, this Broadway musical edition of Tootsie comes to DC's illustrious National Theatre this December. Featuring a score by Tony Award winner David Yazbek, the play follows actor Michael Dorsey in his quest for acting stardom. Talented but difficult to work with, Dorsey lands the role of a lifetime under false pretenses. Hilarity ensues. Don't miss this critically acclaimed production, which is only in town this week.
7:30 p.m. |  Tickets
The National Theatre, 1321 Pennsylvania Avenue NW, Washington, DC 20004
 
Eric Church
Now nine albums into one of the most successful country music careers of the past 15 years, Eric Church is at the top of his game. His most recent release, Heart & Soul, features three albums worth of new music, adding to an already sparkling catalogue. Catch the outlaw and his outstanding band at The Anthem.
8 p.m. |  Tickets
The Anthem, 901 Wharf Street SW, Washington, DC 20024
 
San Holo
San Holo rose to international prominence with a remarkable remix of Dr. Dre's "The Next Episode," a track that has more than 175 million views on YouTube. The Dutch DJ and producer, who was nominated for New Artist of the Year at the 2017 Electronic Music Awards, will spin his eclectic takes on techno and trap music across two nights of concerts inside what will be a lively 9:30 Club.
10 p.m. |  Tickets
9:30 Club, 815 V Street NW, Washington, DC 20001
Saturday
Georgetown Men's Basketball vs. Syracuse
While the Syracuse Orange have moved to the Atlantic Coast Conference, their classic Big East rivalry with Georgetown still lives. Watch these two titans of college basketball battle inside Capital One Arena. Both teams have high hopes for the 2021-22 season. Former Georgetown star Patrick Ewing will guide the Hoyas against Syracuse's legendary head coach, Jim Boeheim.
12 p.m. |  Tickets
Capital One Arena, 601 F Street NW, Washington, DC 20004
Park View Holiday Pop-Up Market
Hook Hall hosts this pop-up of the popular Park View Farmers Market on three consecutive Saturdays. Many of its vendors are offering food and holiday gifts from local artists, makers and producers at this holiday bazaar.
10 a.m. – 2 p.m. |  Free admission |  More info
In front of Hook Hall, 3400 Georgia Avenue NW, Washington, DC 20010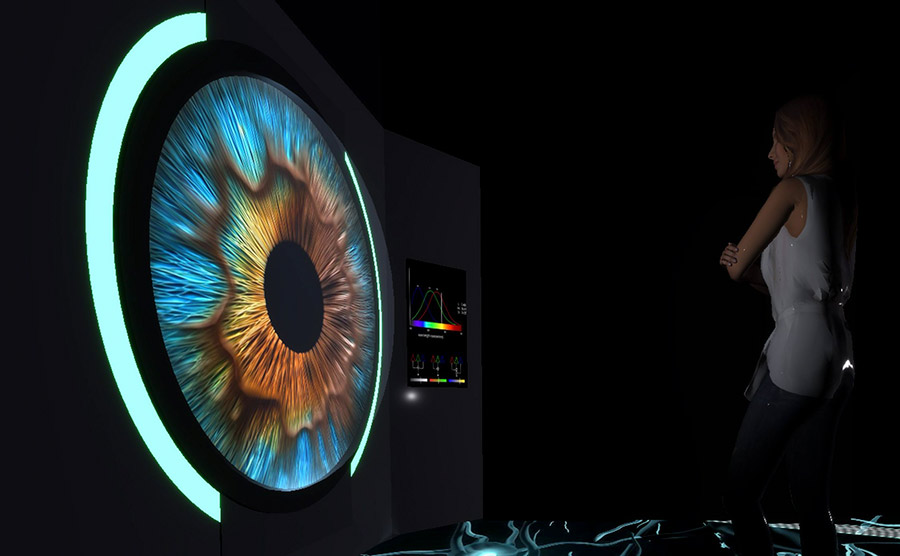 Artechouse
Life of a Neuron
This exhibit at ARTECHOUSE will take you through the thinking cells of the brain, diving into one of the world's greatest mysteries. Artists and scientists collaborated on this fascinating experience that will showcase how the brain shapes our experiences. Thanks to the Society for Neuroscience, ARTECHOUSE allows you to see a neuron from pre-birth to death, allowing for an immersive journey to the center of the mind. Book a discounted trip through the museum at the link for 'Tickets' below.
Monday – Thursday: 12-8 p.m. |  Friday – Sunday: 10 a.m. – 10 p.m. |  Tickets
Safety guidelines
ARTECHOUSE, 1238 Maryland Avenue SW, Washington, DC 20024
 
Gay Men's Chorus of Washington, DC Holiday Show
Tap-dancing elves, a moving Christmas tree, snow and unforgettable choral renditions of holiday classics will all be part of the Gay Men's Chorus of Washington, DC's annual holiday show. The festive program will include songs like "Let It Snow! Let It Snow! Let It Snow!", "I'll Be Home For Christmas," and "Boogie Woogie Frosty". Expect performances from the full Chorus, soloists, all GMCW ensembles and the GenOUT Youth Chorus.
3 p.m. & 8 p.m. |  Tickets
Lincoln Theatre, 1215 U Street NW, Washington, DC 20009
An Irish Carol
The Irish have something to say about that "Carol" of yours, Mr. Dickens. The Keegan Theatre stages this acclaimed play that subs pub-owning David for Scrooge. He's distanced himself from his family through his profitable bar, but a visitor from the past, along with present figures and the prospect of a sad future could turn David around. With searing wit, fast-paced dialogue and a classic Irish sensibility, Matthew Keenan's play is perfect for holiday laughs – and intended for audiences 16 and older.
8 p.m. |  Tickets
Keegan Theatre, 1742 Church Street NW, Washington, DC 20036
 
The Joy of Christmas
The Washington National Cathedral is a beautiful place to celebrate Christmas, as it becomes adorned with themed lights and elaborate decorations each year. The Joy of Christmas is the Cathedral's marquee event, featuring renditions of Christmas classics and a carol sing-along. Performances take place on Saturday and Sunday.
2 p.m. & 6 p.m. |  Tickets
Washington National Cathedral, 3101 Wisconsin Avenue NW, Washington, DC 20016
Sunday
FUTURES
Smithsonian's historic Arts and Industries Building has opened its groundbreaking new experience. On view through July 6, 2022, FUTURES is the Smithsonian's first major building-wide exploration of the future and will temporarily reopen the Smithsonian's oldest museum for the first time in nearly two decades. The part-exhibition, part-festival will celebrate the Smithsonian's 175th anniversary with more than 150 awe-inspiring objects, ideas, prototypes and installations that fuse art, technology, design and history to help visitors imagine many possible futures on the horizon. Make sure to read our guide to the exhibit before you go.
10 a.m. - 5:30 p.m. |  Free admission |  More details
Arts and Industries Building, 900 Jefferson Drive SW, Washington, DC 20560
Light Yards
Yards Park annually offers a festive light installation at its Sundeck. Australian-based light design sculptors Amigo & Amigo have crafted a stunning new installation with 22-foot-tall trees and colored patterns sure to dazzle you as you wander through the area this holiday season. The space is wonderful for an illuminated, night-time stroll. Light Yards is lit up each night from 6-10 p.m.
6-10 p.m. nightly |  Free admission
Yards Park, 355 Water Street SE, Washington, DC 20003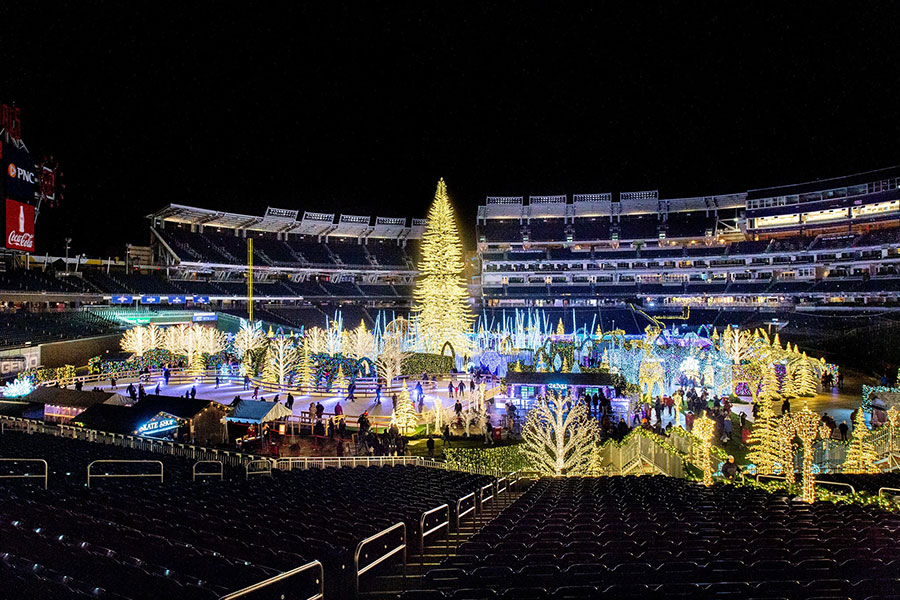 Enchant Christmas
The beloved light maze, billed as the biggest in the world, will make its home in DC at the gorgeous Nationals Park throughout the holiday season. There are also ice skating trails, a holiday village with products from local businesses and a kids' play place. Expect plenty of Instagram-friendly settings and holiday spirit at this one-of-a-kind installation.
Tickets
Nationals Park, 1500 South Capitol Street SE, Washington, DC 20003
Ween
What began as a way for two teenagers in suburban Pennsylvania to record themselves being goofy idiots has turned into one of the most successful rock acts of the past 30 years. Ween is Gene and Dean Ween. Yes, they have real names but you don't need to know them. They make guitar rock, but they also make psychedelic rock. And soul music. And country. And sometimes they throw in some Latin vibes? And other times, they make jazz. Or techno. Or punk rock. They've sung about voodoo ladies, boy's clubs, very successful parties, ocean men, free roses and much, much, much zanier things. Ween is as satirical or as serious as they want to be on any given song and really, at any given moment. See them at the Fillmore Silver Spring if you know what's good for you. All hail the Mighty Boognish.
8 p.m. |  Tickets
The Fillmore Silver Spring, 8656 Colesville Road, Silver Spring, MD 20910
 
#MyDCcool Photo of the Week

Make sure to share your DC photos with us using #MyDCcool, and we may feature yours next month!