Everything you need to know about planning a visit to the country's most famous house.
Requesting a White House tour
Touring the White House requires some advance planning. Public tour requests must be made through your member of Congress (find your member of Congress and contact information) and submitted up to three months in advance and no less than 21 days prior to your visit. If you're an international visitor and wish to schedule a tour, please contact your home country's embassy in Washington, DC.
You are encouraged to submit your tour request as early as possible as tours fill up quickly and a limited number of spaces are available. Tours are filled on a first-come, first-served basis. All White House tours are free. Please note tours are subject to last-minute cancellations based on the official White House schedule.
Public, self-guided tours are 45 minutes and are run between 8 a.m. and 12:30 p.m., Tuesdays through Saturdays unless otherwise noted. For complete details on White House tours, visit the White House tours and events page or call the White House Visitors Office 24-hour information line at (202) 456-7041. The White House is located at 1600 Pennsylvania Avenue NW.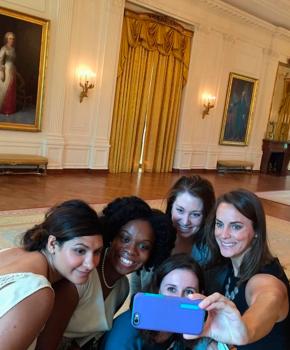 Touring the White House - Washington, DC
What to expect on a White House tour
If there is a tour slot available during your visit to DC, you will be given a specific date and time to arrive and be instructed on where to check in. All guests over 18 years old will be required to present a valid, government-issued photo ID upon check-in. Foreign nationals must present their passport. Please bring as little as possible (avoid backpacks, food, large handbags, bottled water, etc.). Note that smartphones and compact cameras with a lens no longer than 3 inches are permitted on the public tour route, but video recording devices and flash photography are not allowed inside the White House. Visitors will go through security prior to entering the White House. There are no restrooms available at the White House. The closest restroom is located at the Ellipse Visitor Pavilion nearby.
Public tours of the White House include the public rooms in the East Wing, which includes the Blue Room, Red Room and Green Room; the State Dining Room; the China Room; and a view of the White House Rose Garden. Secret Service members are stationed in each room and are available to answer questions about the history and architecture of each room.
You can also visit the White House Visitor Center before or after your tour.
How to get to the White House
The closest Metro stations to the White House are Federal Triangle (Blue and Orange lines), Metro Center (Blue, Orange and Red lines) and McPherson Square (Blue and Orange lines). Please note there is NO PARKING near the White House. Public transportation is strongly encouraged.
How to tour the White House Garden
Another opportunity to visit the White House is to attend either its fall or spring garden tour. Check whitehouse.gov in early October and April. The announcement of the garden tours is usually made within a week or two of when they take place. Garden tours generally run for two consecutive days. They may be canceled due to poor weather. A ticket is required for all attendees (including small children). Usually, tickets are distributed by the National Park Service at the Ellipse Visitor Pavilion on 15th and E streets NW on each tour day beginning at 9 a.m. Review the announcement for specific details.
Will I still be able to see the White House without going on a tour?
While visitors are not allowed entry to the White House without requesting a tour through your congressional representative, you will still be able to see the White House from Pennsylvania Avenue NW at Lafayette Square and view the White House and the South Lawn from the Ellipse. Please note that a new fence is currently under construction at the White House, as the current 6-foot fence is being replaced by a stronger, wider fence that will be 13 feet.
Where can I store my belongings during the tour?
It is important to note that security at the White House is extremely high. If your hotel is nearby, we suggest leaving your belongings in your room during the tour. If this is not possible, there are a few other options. You can designate one member of your tour group to hold everyone's belongings. That person can take the self-guided tour once his or her group has finished the tour.
If you're a ticketed Amtrak customer, you may be able to check luggage in advance at Union Station. These are located near Gate A. Lockers are available from 6 a.m. to 10 p.m. daily. A photo ID is required and lockers must be paid for via cash or credit in advance. Rates are $3-$6 per hour per bag depending on the size of your bag. For questions on bag storage, please call 202-906-3000.
Catch up on White House history with the free podcast The 1600 Sessions and enhance your trip with the White House Experience app from the White House Historical Association. The app offers three tour experiences, including a virtual tour of the White House (with rooms you normally don't see on the tour), a neighborhood walking tour and a room-by-room guide for visitors on an in-person tour of the White House.
Now that you have read up on the White House, explore DC's other awesome monuments and memorials.