Our end-of-the-week picks for Oct. 15-17
We've gathered up some live virtual events and other fun things to do that are going on this weekend. You can also read the latest info regarding what's open and reopening in the District, as well as things to do during the week and throughout the month.

Looking for a local perspective delivered directly to your inbox every two weeks? Sign up for our "DC on the Go-Go" Local Newsletter to stay in the know.
Friday
Double Exposure Investigative Film Festival & Symposium
Join 100Reporters, an investigative news organization, for a virtual edition of the Double Exposure Investigative Film Festival (DX), the first and only festival dedicated to investigative storytelling on film in the U.S. This event celebrates the finest new films inspired by the investigative instinct and advocates for the rights of reporters and filmmakers to pursue investigations that are in the public interest. In addition to screenings, DX offers a professional symposium and programming for journalists and visual storytellers.
Virtual Passes and Tickets
 
Laurie Anderson: The Weather
You're likely familiar with Laurie Anderson and her influence without even knowing it. One of the most groundbreaking artists of the 20th century has used a range of media, including live performance, video, music and writing, to address American identity and technology and the effect of both on human relationships. This new exhibit at the Hirshhorn will debut more than 10 new artworks, interspersed with essential Anderson creations from throughout her career. The immersive audiovisual experience will be complimented by a series of live shows by Anderson from January through July of 2022.
Wednesday - Sunday, 10 a.m. - 5:30 p.m. |  Free admission |  Safety guidelines
Hirshhorn Museum & Sculpture Garden, Independence Avenue & 7th Street NW, Washington, DC 20560
 
My Lord, What a Night
A drama based on the real-life friendship between Marian Anderson and Albert Einstein will light up the stage at Ford's Theatre this October. Based on true events, My Lord, What a Night details the impetus of a kinship between a legendary contralto and perhaps the most famous physicist to ever live. After a performance in Princeton, New Jersey, Anderson is denied lodging because she is Black. Einstein invites her to his home, and the narrative imagines conversations that led to Anderson's historic concert on the steps of the Lincoln Memorial.
Tickets
Ford's Theatre, 511 10th Street NW, Washington, DC 20004
 
Remember This: The Lesson of Jan Karski – Final Week
Academy Award nominee David Strathairn delivers a staggering solo performance in this production coming to Shakespeare Theatre Company's Michael R. Klein Theatre at the Lansburgh. Strathairn plays Jan Karski, a witness to the Holocaust and a World War II hero. Karski risked life and limb to travel to the Oval Office from war-torn Poland to tell his story, only to be disbelieved. The one-man show of courage and persistence will leave you stunned.
Tickets
Michael R. Klein Theatre at the Lansburgh, 450 7th Street NW, Washington, DC 20004
 
Saturday
All Things Go Fall Classic
This beloved DC-area music festival returns this Saturday and features performances from a diverse array of artists, including the likes of Haim, St. Vincent, Cautious Clay and many more. The festival will be hosted at Merriweather Post Pavilion this year and will feature two stages, an epic lineup of delicious local eats and art installations.
Tickets
Merriweather Post Pavilion, 10475 Little Patuxent Parkway, Columbia, MD 21044
 
Intersections: Sanford Biggers
Innovative artist Sanford Biggers, who uses video, film, installation, sculpture, drawing, music and more to create stunning merged works, brings his talents to The Phillips Collection for this two-part project in the museum's Intersections series. Biggers will use items from the Collection, including Gee's Bend quilts from an insulated Black community in Alabama and sculptural works, to create both a site-specific floor installation and a hybrid figure in marble.
Tuesday – Sunday, 11 a.m. – 6 p.m. |  Tickets & safety guidelines
The Phillips Collection, 1600 21st Street NW, Washington, DC
 
Halloween Treasure Hunt
Visiting the wondrous Mansion on O & O Street Museum is quite the experience, especially when you journey through the historic venue on a scavenger hunt. View the Mansion in its finest Halloween attire as you search through its many themed rooms and secret doors for seasonal and Halloween-themed prizes. You can also bring along your own shopping bag and purchase goodies from the mansion.
Reserve
The Mansion on O Street, 2020 O Street NW, Washington, DC 20036
 
Celia and Fidel
Celia Sánchez was the most trusted advisor of one Fidel Castro, always by his side as he mulled how to improve his Cuban homeland. Celia and Fidel is set in 1980, as 10,000 Cuban citizens seek asylum at the Peruvian Embassy. Castro must decide, through an intense conversation with the revolutionary Celia, whether he wants to be mighty or merciful. Magical realism is woven into this captivating tale that ruminates on the battle between power and morality.
Tickets
Arena Stage, 1101 6th Street SW, Washington, DC 20024
 
Sunday
David Driskell: Icons of Nature and History
Along with fellow Howard University graduate Alma Thomas, David Driskell showed that the art of Black people is essential to the story of American art. In this new exhibition at The Phillips Collection, which marks the first comprehensive look at Driskell's collages, paintings, drawings and prints, you can observe more than 50 works and marvel at the legacy of this titanic figure who also worked as a curator, teacher and writer. Driskell's connection to American history and the African diaspora make for timeless pieces that will strongly resonate in 2021.
Tuesday – Sunday, 11 a.m. – 6 p.m. |  Tickets & safety guidelines
The Phillips Collection, 1600 21st Street NW, Washington, DC
 
Sargent, Whistler, and Venetian Glass: American Artists and the Magic of Murano
Discover Venice's rich history as a glassmaking capital and its influence on early 20th century art with this retrospective at the Smithsonian American Art Museum. The first comprehensive look at the American Grand Tour to Venice in the late 19th century features works by seminal artists such as John Singer Sargent, James McNeill Whistler and many, more all of which convey how glassmakers in Murano inspired new ventures and styles in American painting.
Wednesday – Sunday, 11:30 a.m. – 7 p.m. |  Free admission |  Safety guidelines
Smithsonian American Art Museum, 8th and G Streets NW, Washington, DC 20004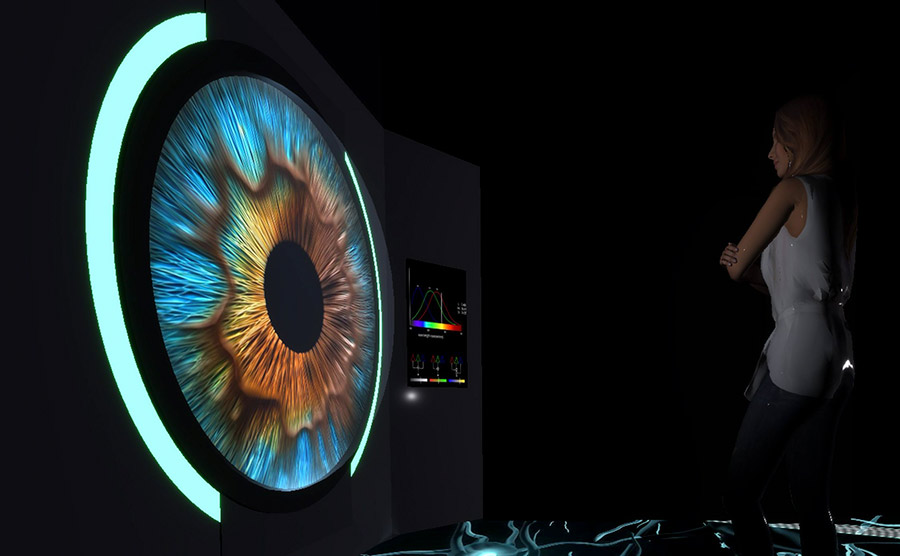 Artechouse
Life of a Neuron
This new exhibit at ARTECHOUSE will take you through the thinking cells of the brain, diving into one of the world's greatest mysteries. Artists and scientists collaborated on this fascinating experience that will showcase how the brain shapes our experiences. Thanks to the Society for Neuroscience, ARTECHOUSE allows you to see a neuron from pre-birth to death, allowing for an immersive journey to the center of the mind. Book a discounted trip through the museum at the link for 'Tickets' below. The exhibit runs through Nov. 28.
Monday – Thursday: 12-8 p.m. |  Friday – Sunday: 10 a.m. – 10 p.m. |  Tickets
Safety guidelines
ARTECHOUSE, 1238 Maryland Avenue SW, Washington, DC 20024
 
Hadestown
Winner of eight 2019 Tony Awards (including Best Musical) and the 2020 Grammy Award for Best Musical Theater Album, Hadestown combines the tales of Orpheus and Eurydice and King Hades and his wife, Persephone, into an epic musical love story. Acclaimed singer-songwriter Anaïs Mitchell and director Rachel Chavkin have created a masterpiece that must be seen at the Kennedy Center to be believed. Please note that proof of a negative COVID-19 test within in the last 72 hours or proof of full vaccination is required to enter the venue.
Tickets
The John F. Kennedy Center for the Performing Arts, 2700 F Street NW, Washington, DC 20566
#MyDCcool Photo of the Week

Make sure to share your DC photos with us using #MyDCcool, and we may feature yours next month!