Getting to Washington, DC
Make your way to the nation's capital with the following transportation options.
As a traveler, you have a wealth of options for reaching the wonders that await in America's capital city. We've broken those down below.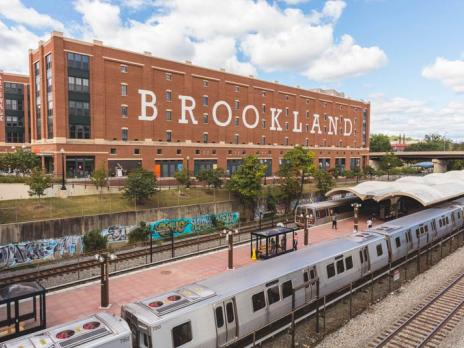 WMATA Metrorail train at the Brookland Metro Station - Transportation options in Washington, DC
Air Travel
Train
Due to the coronavirus, Amtrak has launched new health and safety procedures, including a partnership with Lysol and enhanced cleaning protocols, limited capacity, assigned seating and mandatory face coverings. Learn more about how Amtrak is addressing rider safety during the coronavirus pandemic.
If you'd rather travel to DC on the ground, Amtrak is the ideal solution. The Northeast Regional train runs every hour from New York City to the District, including early morning and late night departures. The train saves time and can save you money, too – when you purchase a ticket two weeks in advance of your trip, you can save up to 25% on the lowest available fares.
The train departs and arrives from New York's Penn Station and DC's Union Station, which is centrally located, features its own Metro stop and plenty of taxis awaiting as you exit.
Cars
If you've chosen to drive to the District with your own wheels, SpotHero and ParkWhiz are fantastic apps to use in order to find a parking spot that suits you. Many hotels also offer parking options, so check with yours when securing your reservation.
Rules of the Road
Washington, DC has a grid road system like Barcelona, Spain and Paris, France, but unlike its international counterparts, the District's streets are more complicated due to diagonal streets, squares and traffic rotaries/circles, as well as its one-way streets and narrow roads. If you are driving around the District, traffic patterns may change due to rush hour/commuting times (generally 5-10 a.m. and 3-7 p.m.) or for construction. Please note that most traffic lights stand at the side of intersections instead of hanging suspended above them. Be alert for no left turn intersections and blocks closed to vehicle traffic. The default speed limit of DC's local roads was set to 20 miles per hour (or 32 kph) in June 2020.
Thankfully, cars are not needed for the best experience. Washington, DC is a walking town. In fact, 58 percent of commuter trips in DC are taken by foot, bike or public transit. Join the locals and see the best in the District as a pedestrian!
Rental cars
Rental cars can be picked up at all Washington, DC major airports. It is recommended to make reservations in advance. Car rental companies operating in the area include Alamo, Avis, Budget, Enterprise, Hertz, and National.