Major League Soccer in Washington, DC promises to bring out the ultimate fan experience and a lively crowd for every match.
Washington, DC is a bona fide sports town, and with four Major League Soccer Cups to its name, D.C. United is one of the winningest teams in the MLS.
 
Unlike the "Washington" sports teams in the city, United is the only team that identifies as being from "DC," ad nod to the city's local identity. As such, going to a DCU game feels like being a part of the local fabric – and this couldn't be more true given Audi Field's location, which straddles two exciting neighborhoods, Capitol Riverfront and Southwest & The Wharf. From cheering on elite players to having the league's current gem of a stadium, there are plenty of reasons to hop on the United bandwagon and get tickets today.
01
The team is a perennial playoff contender
Forward Ola Kamara has emerged as United's top goal-scoring threat, with midfielder Edison Flores and defender Andy Najar providing additional support. The star-studded squad also includes past U.S. Soccer team members Russell Canouse in the midfield, Steven Birnbaum on the back line and Bill Hamid in goal.
02
Sit with the die-hards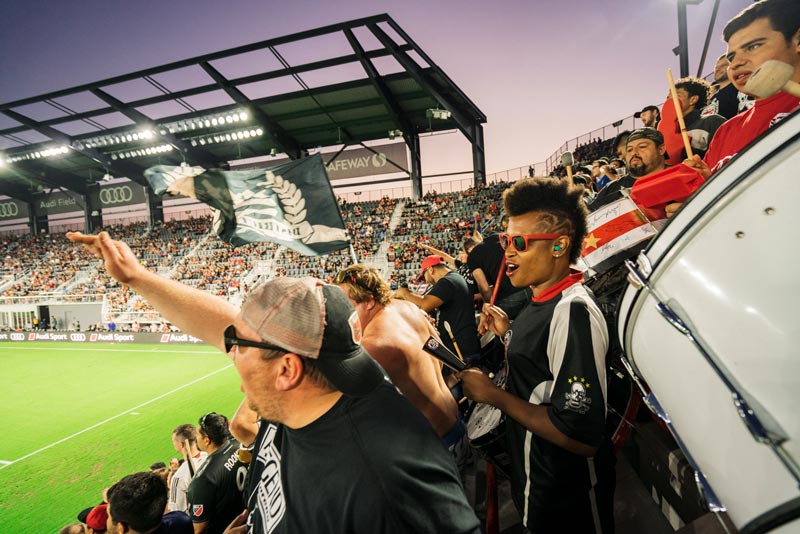 The move to Audi Field signified the first time the team's die-hard supporters could cheer on DCU in a stadium built for soccer. Taking up real estate in the north end zone, the fan section offers general admission tickets with a full-on expectation to scream out team chants (in English and Spanish), stand all game long and wear team colors. And about your clothes, fair warning, they might end up covered in beer as it's tradition to toss half-full plastic cups and tall-boy cans in the stands after a United goal. Forget the bandwagon – prove you got what it takes to be the team's 12th man.
03
Audi Field's views are spectacular
Cheer on the Black-and-Red along with a capacity crowd of 20,000 while enjoying a great seat, regardless of where you are. That's because Audi Field's proximity to the pitch is the closest in all of MLS. Sections of the front row are a mere eight feet from the action, and you don't need front-row seats to take it in. You can enjoy the view when buying concessions or walking to a different part of the stadium. And thanks to the high-angle stands, fans in far-back rows can still expect an intimate match experience.
04
The in-match experience is top-notch
Mobile tickets are required to gain access into Audi Field – download the D.C. United app in Apple's App Store and Google Play. Also, if you're looking for a quick beer or bite, use the app's mobile concessions feature. Just make sure to charge your phone before kickoff to maximize your experience. And if you have any issues about getting to or from the stadium, the app can help you navigate to your final destination.
05
The pregame vibe is all a fan could ask for
If you want to attend a memorable sporting event, you want the buzz to build before even entering the stadium. That's what the fan plaza is all about – it serves as a gathering place for fans and host on-site installations and pop-ups. Thanks to the ground-level sightlines, fans gathering outside the stadium can also catch glimpses of the pitch from outside, near the main entry gate. Leading up to the fan plaza and gate is the Audi Field Fanwalk, a brick walkway dedicated by fans running along Potomac Avenue.
06
There's a ticket for every type of fan
When it comes to getting into the stadium, you can't beat single-game weeknight tickets, which provide incredible value for a professional sporting event. The supporters' seats with the team's lively fan clubs are great if you want to burn some energy, while the west sideline seats are among the most popular among fans. On the high-end, premium club seats provide VIP access to lounges and the rooftop patio, as well as comped food and drink. The stadium accommodates groups, families and single-game buyers in the south end zone. Find tickets right now.
07
Dig in to pupusas, arepas and more
Part of what makes DC's restaurant scene so popular is all the unique international eats, some of which you'll find at a D.C. United game. Footy-loving foodies can tuck into pupusas (Sections 109 and 129) – a Salvadoran specialty consisting of meat- and cheese-stuffed thick corn tortillas with slaw on the side – served by the same family-run outfit that's been feeding fans since the team's RFK days. Line up at the Arepa Zone (Section 125) for a Venezuelan-style corn cake sandwich made with plantains, shredded meats, black beans and more. Tacos, burgers and traditional fare round out the offerings. 
08
It's easy to get to Audi Field by bike, Metro, car or water taxi
In case you haven't heard, DC is very walkable. That's good to know before taking the short 10-minute stroll from the nearby Navy Yard Metro stop on the Green Line – the easiest way to get to the stadium. Ride the DC Circulator on game day, which provides special service on its Eastern Market – L'Enfant Plaza (EMLP) route to Audi Field beginning two hours before the game and ending three hours after kickoff. Cyclists can also pedal up to Audi Field in style and lock up their two-wheelers with the free on-site bike valet or bike parking at the southwest corner of the stadium. If traveling by car, your Lyft or Uber can drop off at the stadium. If you need to park a car, find one of the 6,500 nearby Audi Field parking spots from SpotHero with rates up to 50% off drive-up. You can even hop on a water taxi bound for The Wharf and voyage to the game if you're coming from Alexandria, Georgetown or National Harbor – but again, remember to don your trainers back on dry land as the stadium is a one-and-a-half-mile walk from The Wharf's Transit Pier.
09
You can load up on United gear
Show your support for the Black-and-Red at Audi Field's stadium store. Said to be one of the MLS' largest shops, this fan utopia has all the swag you could want. Grab a D.C. United City Skyline Scarf before catching the second half or support your favorite player by grabbing his replica kit.
10
There's so much to do in the neighborhood before and after the game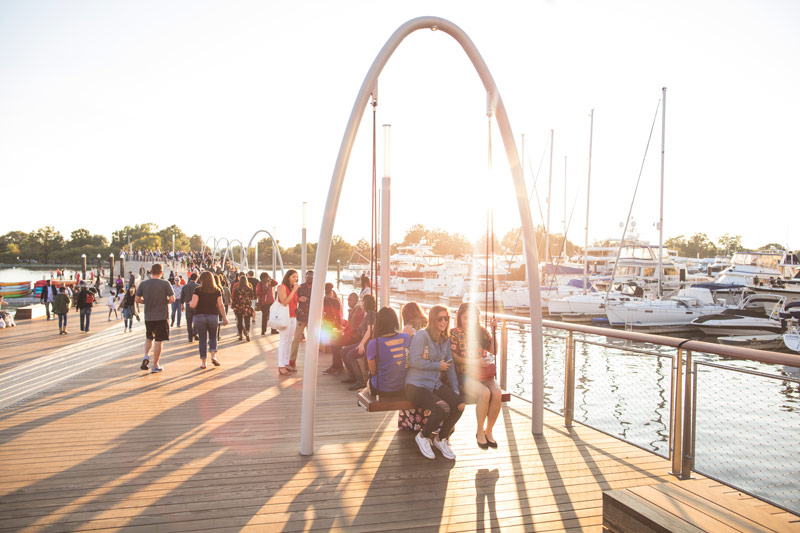 Unlike a lot of sports venues, one major benefit to Audi Field is that it's located smack dab in the middle of two of the city's most popular waterfront destinations. There are so many things you could do in Capitol Riverfront, from grabbing ice cream or wine tasting to going stand-up paddleboarding or crafting your own soccer-baseball double-header on Washington Nationals game days. To the west of stadium, you'll stumble upon The Wharf, home to The Anthem music venue, the longest continually operating open-air fish market in the country, hot restaurants and shopping. Whatever you decide to do, we kindly ask that you tag your adventures with #MyDCcool.